Let's talk about "(dis)respecting the game."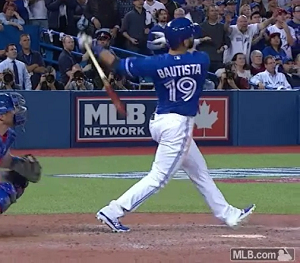 It's probably been a discussion around Major League Baseball as long as it's been around. These last few years (basically since Yasiel Puig came into the picture) it's been an especially big deal. If you weren't paying attention, you might think it just depended on whether or not the guy who did the thing was on your team.  Anyways, it all came to a head during the 7th inning of last night's Blue Jays-Rangers game, which was capped by a Jose Bautista blast. He admired the ball for a bit and then let loose the bat flip heard round the world. Some people thought it was a great moment while others were furious, comparing it to what someone might do in "backyard baseball." [1]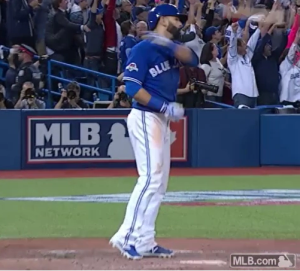 Now, I don't think it was a coincidence that most of the folks policing this show of passion were on the losing side of things, as that's what tends to happen. But let's consider the situation: Game 5 of the ALDS, do or die for both teams, with the Blue Jays trying to make it to the ALCS for the first time in 22 years. After going down 3-2 in the top of the 7th following a series of unusual events, Jose Bautista (who is playing in the very first postseason of his 11 year MLB career, by the way) smacks a 3-run home run to essentially seal the deal for the Blue Jays and send Toronto to the ALCS.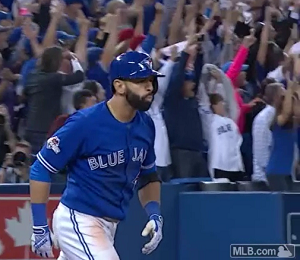 So my question is, if Jose Bautista isn't allowed to express emotion after hitting a huge home run to lead his team to its first ALCS berth in 22 years, in his first postseason ever, then why even play baseball at all? The way some people talk about it, you'd think that baseball was founded by the Puritans as a way to keep those crazy kids in the streets and out of the sheets, rather than the general rabble that populated the game for its first few decades. The verbal refuge of these critics most often involves "(dis)respecting the game." Of course, it's impossible to tell what this actually means since they seem to make it all up on the spot, but it appears to have something to do with showing emotion during a game. So maybe if you show too much emotion in a game, you're disrespecting baseball.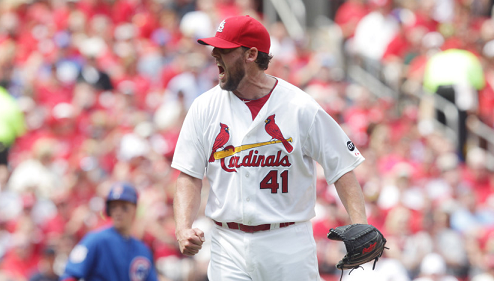 But it's definitely not that, because some pitchers (like, I don't know, John Lackey and Jake Peavy, for example) who straight up yell at themselves/the umpire/the catcher/anyone who will listen every time they don't get a strike called are absolutely praised for their "grit", "gamesmanship", or "competitive streak" (unless of course it's Carlos Zambrano, whose immaturity really hurt his teammates.)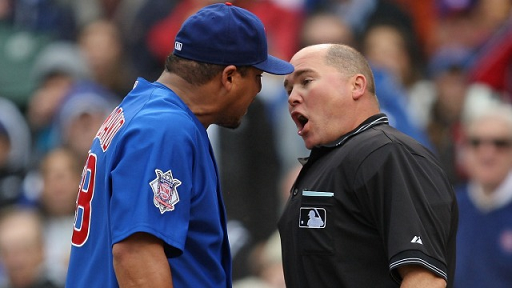 Or how some other players who get furious at umpires for calls and start yelling at them are lauded for "sticking up for their teammates". People seem to love guys like this, so they must be respecting the game.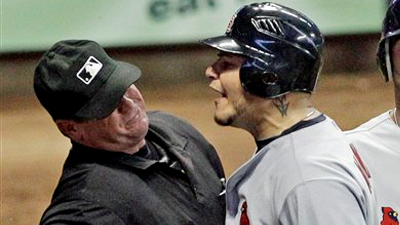 So maybe you're allowed to be emotional when something just went wrong, but not after something went well.
This may sound confusing and contrived, but anyone who loves and respects the game of baseball knows these things.
That can't be it either, though, because teams get mad when other players get frustrated with themselves after a weak pop up, but only if their team is leading in the late innings when it happens. This may sound confusing and contrived, but anyone who loves and respects the game of baseball knows these things. So maybe you're only allowed to show emotion after you do something bad when you're probably gonna lose. Yeah, that must be it.
So that settles it: if you show passion while doing something good when you're winning, you're disrespecting the game and you really need to grow up. If you show emotion after doing something bad while you're losing, on the other hand, then you're giving it your all because of your love of the game, and you're just a clubhouse leader. But it also depends on which player is doing it and what team he's on. Alright, well you guys have fun with that. I'm gonna just keep enjoying another great MLB postseason.
[1] Let's ignore for a second the fact that Pablo Sanchez and Kiesha Phillips are the only ones on the Backyard Baseball roster who have the raw power to go yard in the ALDS.