If you're a baseball fan, you've probably had MLB At Bat on your phone for a few seasons now. There's a few other apps, though, that are gonna be necessary if you really wanna supercharge your phone for baseball. Once you're done reading this, you'll feel your phone is more ready to maximize the end of the season and through October. From games to contests to scouting reports, let me walk through some apps (some free, some paid) you might want to go download. By the way, I don't play fantasy baseball, so I can't suggest an app for that, so let me know what the best one is and I'll improve this list.
MLB At Bat (Free, Paid Subscription Options)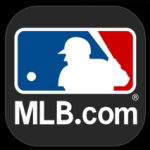 Even though I just said you probably have this, I can't write this article without referring to the basics. MLB At Bat is basically the best way to follow the MLB season day-to-day on your phone (or tablet.) It's a free download to start, which gets you their classic gamecasts (follow pitch-by-pitch), along with schedules, projected Starters, game wrap-ups, news around the league (and especially regarding your favorite team) and more. Depending on how much money you want to drop, you can pay a little to listen to games live (definitely worth it, if you do manual labor or something that lends itself to listening but not watching), or pay a lot to subscribe to MLB.TV and never miss a pitch. You can decide if you want to pay anything later, but for now just go download it and set your favorite team.
Topps Bunt (Free, In-App Purchases Available)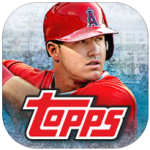 I'm legitimately surprised if you're reading this and unfamiliar with Topps Bunt, but just in case I have to tell you about it. Topps Bunt is how you collect digital baseball cards on your phone, and it's pretty much why this site exists. It's also a game with a fantasy sports-type framework. While real money can definitely get involved, the initial download is free and you can get a pretty solid collection with free coins if you're a little patient. If you're skeptical about collecting digital baseball cards, go ahead and read this. Once you have, go download the app and you'll start enjoying this site a lot more.
R.B.I. Baseball 15 (Paid)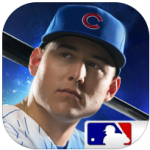 R.B.I. Baseball 15 is where you're gonna get some fun, casual MLB gameplay on your phone. This is the 2nd year since R.B.I. Baseball has been reincarnated and it looks great and plays pretty nice. If you want to switch between a more casual arcade experience and a more difficult game, toggle fielding assists so that the CPU either does or doesn't do the heavy lifting for you. R.B.I. Baseball 15 is by no means an in-depth baseball simulation game on your phone, but it's a lot of fun and you can pick up and play whenever you have a minute to burn.
MLB Manager 2015 (Paid)
If you want more depth and prefer managing to the actual gameplay, go with MLB Manager 2015 instead. This is the mobile version of Out Of The Park Baseball, which is basically the Football Manager of baseball simulation. The mobile version isn't as in-depth or as old as the computer version, but it's a great mobile package. This is also a great game for playing a few minutes here and there while you have free time, but you can still micromanage to your heart's desire. When you're feeling a little more mindless, you can just run through a standard-managed game, so it's nice because you can choose to be as in-depth as you want.
MLB Beat The Streak (Free)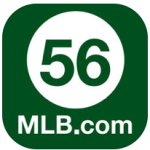 MLB Beat The Streak is a different kind of mobile game, and you'll only need to check in a few minutes a day. It's pretty simple: you try to pick a player who will get a hit that day (and you can double up if you're feeling lucky), and once you beat Joe DiMaggio's streak of 56 games, you win a lot of money! Of course, that's extremely unlikely (but that's why it's fun, right?) so there are some smaller prizes along the way. This is a good way to get just a little more invested in the MLB season beyond just following your favorite team.
Rotowire Fantasy Baseball Assistant '15 (Paid)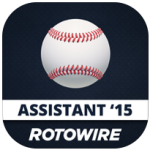 Finally, Rotowire Fantasy Baseball Assistant '15 is where you go if you need serious, in-depth, up-to-date information on every professional baseball player there is. Whether it's for Bunt, fantasy, sports writing or just extreme fanhood purposes, Rotowire Fantasy Baseball Assistant will make sure you never miss a trade, promotion, injury or anything else that could possibly effect a baseball game. If it seems pricey, then it's just not for you (which is fine, not everyone needs to dive into AAA rosters), because this is a no-brainer for anyone who lives, eats and breathes MLB.
Once you've got these apps on your phone, you'll be ready for any situation, whether you need to catch a game with no TV in sight, set your fantasy lineup or just kill a few minutes playing some baseball. Download them and let me know what you think! This list is probably not comprehensive, so if you think I missed anything, make sure to let me know in the comments so I can make this list even better. Thanks for reading, and let's enjoy this lead-up to the postseason.