I've been wanting to write this for a while.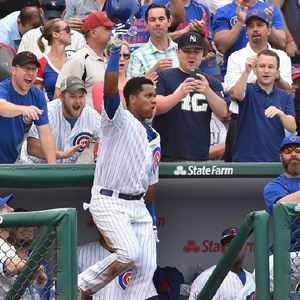 What better time than after Starlin Castro's game Friday against the Cardinals? The Cubs now second baseman started the game with an RBI single before his long 5th inning 2-run HR, which he followed in the 6th inning with a 3-run HR. If you were scoring at home, that made 6 RBI for Starlin, tying his career high which he set in his MLB debut 5 years ago. That's not to mention that his performance has pulled the Cubs to within one game of the Pirates for that top wild card spot and only 6 games behind the Cardinals for the NL Central lead. The thunderous Wrigley crowd demanded a curtain call from the star they have a love-hate relationship with, and after the events of this season, he was more than happy to oblige. It was hard not to watch this and get the feeling that something had changed, both in the mechanics of Castro's game and in the way the Chicago fans view their longest-tenured star.
Let's just say that Castro's early to mid season performance made it an easy decision for the Cubs to slide Addison Russell into the infield at shortstop.
I won't get into the details of Castro's much-publicized mega-slump and benching (and I definitely won't get into deep stats or anything), but a little background is necessary for those not in the know. Let's just say that his early to mid season performance (both offensive and defensive) made it an easy decision for the Cubs to slide Addison Russell into the infield right away, first at second base and then to short once Maddon had had enough with Castro and outright benched him on August 6th. Castro was clearly disappointed in himself but took the benching well, and by August 11th Joe Maddon gradually began introducing him to game situations again, mostly in pinch-hitting roles and increasingly at second base.
Since then Castro has made it impossible for Maddon to leave him out of the lineup, hitting .356 with 5 HR and 14 RBI. Any Cubs fan who has been paying attention knows that Castro seems to have made some sort of adjustment (particularly to his stance), but Friday was his reintroduction to the good kind of limelight against the first-place Cardinals. Castro absolutely launched his 5th inning HR, and sensing that the crowd was finally behind him, he sat back and admired it for a second while the crowd roared. He would top the moment only one inning later with a HR that counted for one more run than the last, before stepping out of the dugout for (what was shockingly) his first-ever curtain call at Wrigley field. With the curtain call request, Cubs fans confirmed the pivotal nature of the moment, and perhaps indicated a turning point in how Starlin Castro is viewed by the only fanbase he's known.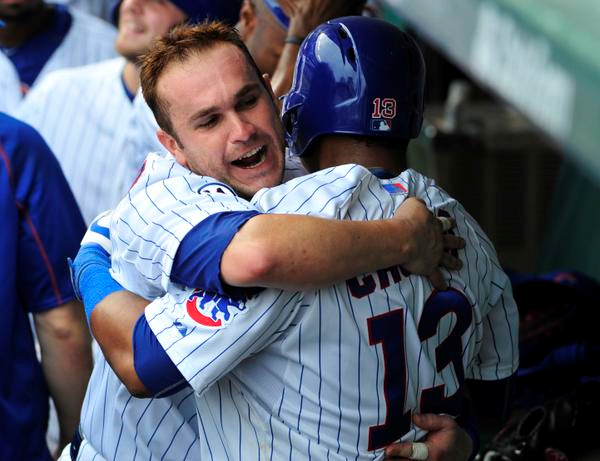 Since that stellar debut in 2010, Starlin Castro has consistently done two things: collected base hits at the plate and racked up errors at shortstop. He was the youngest player ever to lead the National League in hits at 21, and he was a well-below average defensive shortstop throughout his career to this point. Although he certainly had range and instinct, and showed glimmers of hope fairly often, he made a lot of errors and his fielding percentage suffered. At bat, however, Castro hit .307 in 2010, .300 in 2011, .283 in 2012, and .292 in 2014. In 2013, he hit .245, which had been by far his lowest average until this season. The point is, for most of his career, Starlin was a below-average defensive shortstop but a hit machine who made up for his defensive errors.
This didn't mean he was without his detractors, though, as Cubs fans criticized him for perceived laziness and absentmindedness , ignoring his pace for about 2,000 hits by age 30. Criticism was not unwarranted, as Castro consistently had defensive woes at short, and although he had a lot of hits he also had a lot of strikeouts, double plays, and not a lot of walks. While Castro certainly made more than his fair share of errors at short and to a lesser extent at the plate, he seemed also to get more than his fair share of targeted outrage, considering he was the lone bright spot (at the plate, at least) on several Cubs teams pre-MVP-level-Rizzo. This season, however, with his disappointing sliding average (.236 by the time he was benched), his offense was only hurting the team more than his defense, if anything, and Cubs fans had had enough. As the trade deadline approached, many clamored for him to be traded, and while it seemed a few times like that was going to happen he ultimately stayed with the Cubs.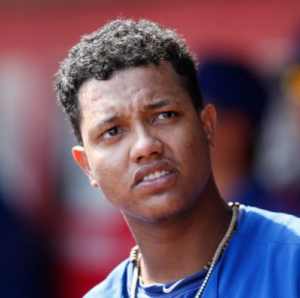 Joe Maddon was done with Castro at short, though, and ready to move Russell over from second. He was almost ceremoniously benched, and it was clear that not only was the shortstop role no longer his (after a 5+ year reign), but he was no longer guaranteed a place in the Cubs lineup (again, after a 5+ year reign.) Despite being a 3-time all star used to pacing the team's offense, he didn't complain, kept his head down and worked on his game. The move seems to have done the job, and Castro is now a big part of the Cubs late-season push to improve upon finishing in the second wild card spot. Since he was the best player for several Cubs teams, he might have been putting too much pressure on himself at the plate, and maybe he realized it's not all up to him anymore. Maybe the same happened at short, and he's more comfortable at second with the extra time he's afforded to get the ball to first base. Whatever it is, it seems to be working, and the Cubs are happy to be able to rely on him again as the postseason nears.
By the way, don't look now, but Castro has worked his average up to .257, which is actually the third-highest qualifying average on the Cubs! He's not only getting hits again, he's also found some power in his bat (as evidenced by his 2 HRs against the Cardinals), making his bat even more valuable in the lineup. Furthermore, he seems more comfortable at second than short, making as many spectacular plays as errors so far. His fielding percentage on the season is now actually better than Kris Bryant's, who is sometimes deservedly praised for his defense. That's not at all to say that Castro has helped the Cubs more than Bryant or anything, but it's just to point out that Castro's defensive performance this season has been far from inexcusable. It's clear that Castro is determined to leave 2013 as his worst MLB season, because 2015 is shaping up to be much more respectable. Some might say this is because the Cubs have a lot of good bats in the lineup now, and I say that's exactly what it is. Now that it's not all up to Castro, he can contribute to the team without trying to be the team.
A guy with this much talent who can also handle playing second fiddle is the type of guy you should definitely want your team to keep.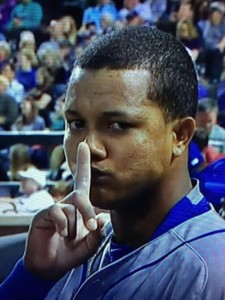 Some Cubs fans still can't let go, though (source: two seconds on Twitter), and won't just celebrate the resurgence of Starlin Castro. You can spot them easily because they say things like "more trade value, can't wait till he's gone!" when he has a good game and helps the Cubs win, and they just won't accept the fact that he might be good at all. This bewilders me. Let's be clear: it was more than justifiable to be impatient or upset with Castro before August 11th, because he actually was just not helping the Cubs win at all, on either side of the ball. However, he has since shown that not only can he rebound from a major slump, but he can respond to a fairly major demotion with class and hard work. If he had whined during his benching, demanded a trade, or flat out kept failing to perform, I would understand people wanting him out, but he's made it clear that he wants to succeed in Chicago. Pair this with the fact that Castro is still only 25 (25! He has 975 hits!) and the Cubs have him signed through 2019 with a 2020 option, and it becomes clear that Cubs fans may be better off accepting Starlin Castro for all his flaws. I say he's a great option for the Cubs second baseman of the future. A guy with this much talent who can also handle playing second fiddle is the type of guy you should definitely want your team to keep.
Okay, okay, I'll address the elephant in the room when I talk about Castro at second: 22 year old Javier Baez. Let me conveniently sidestep that by putting him at third base, where he has excelled in admittedly limited time this season. Why not? The Cubs don't really have a committed third baseman, that was just the easiest place to put Kris Bryant in the lineup. Anyways, 25 year old Anthony Rizzo (signed through 2019, 2020-2021 options) and 21 year old Addison Russell round out that young infield. That of course leaves 23 year olds Kris Bryant and Jorge Soler (signed through 2020) for LF and RF, respectively, once 22 year old Schwarber takes over as catcher (but I love Montero, so hopefully that doesn't happen too soon.) Dexter Fowler is 29 and only signed for one year at almost $10 million, making it unlikely that he is the Cubs center fielder of the future, so I guess that's the biggest Cubs question mark after this season. I hope it goes without saying that the Cubs pitcher of the future is Jake Arrieta, who will start every game. That's the Cubs dream lineup for years right there, if they just lock up Russell, Baez, Bryant, Schwarber, Arrieta and a center fielder long term. Since all those guys are so young, it should be financially realistic (at least for a few years.) If I'm just dreaming, please don't pinch me.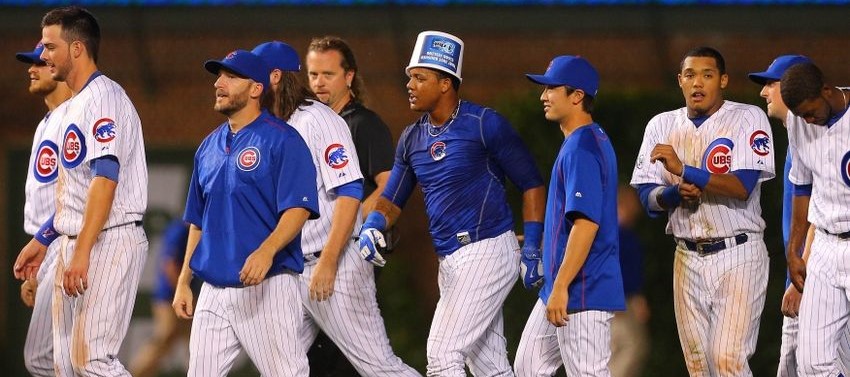 Anyways, as the season winds down and the playoff races heat up even more, just remember that Starlin Castro is your friend if you're a Cubs fan, and he's completely turned his season around in just over a month (which is a small but not insignificant sample size.) Furthermore, he's in a position to help the Cubs for a long time coming, and he seems happy to do that whether or not he's the main attraction. It's been a good season for Cubs fans, and it's finally starting to look like a good season for Starlin Castro, too.